Public Adjusters for Commercial Flood Damage
A flood can carry more than water damage to your commercial property. Along with property damage, contaminated water can compromise the health of your employees and the effects of a flood can interrupt your business indefinitely if not handled immediately and properly. We can assist you with your flood policy. We navigate your policy, fully evaluate your loss, and prepare a claim to get you the optimum amount to recover.
As the National Weather Service confirms, flooding is a nationwide threat applicable and responsible for $3.5 billion per year in total flood insurance claims. Is your business prepared?
Flooding is unique from other perils because it is not typically covered in your commercial property insurance policy. This means you may have to obtain special coverage with your insurer or work with policies made available through the National Flood Insurance Program, which has its own set of rules. Also, water damage from a flood is an expansive topic that deserves thorough assessment to determine the immediate and the potential property damage, so your business will not suffer any further.
Post-disaster, this could leave you vulnerable to complex policy conditions and oversights that can stall the recovery process, and result in an inadequate flood claim. Running a business and managing a claim can be two full-time jobs. Our public adjusters lift the burden by handling your flood insurance claim. We work on your behalf with all other parties involved. We provide you with the expertise to prepare and support a detailed claim in order to attain the optimum settlement for you.
The Jansen/Adjusters International Offices
What To Focus On After Flood Damage
Make sure you fully understand the meaning of each of the following before you move forward. Feel free to reach out to us for a no-cost discussion about your claim.
What is my agent/broker's role?

The insurance company hired a construction estimator. What do I need to know?

Wind Damage vs. Storm Surge vs. Flood. What is covered?

Why is a claim strategy so important?

Am I impacted by coinsurance?

Is a moisture survey necessary?
Property Damage Losses Commercial Claims Recovery Process
Property Damage
Time Element
Life & Safety Issues
Mitigation of Damages
Establish A Preliminary Recovery Plan
Evaluation of Coverages
Valuation Of Damages, Claim Preparation, and Documentation
Negotiations & Settlement
Restoration Of Property & Operations
Industries Our Public Adjusters Have Helped
Client References & Testimonials

Client References

1745 Wazee - Denver, CO

Advance Telecom - Denver, CO

Biomed Realty - Phoenix, AZ

Brighton Depot - Brighton, CO

Chi Psi Fraternity - Boulder, CO

Condominio Los Corales - San Juan, Puerto Rico

Corrigan Properties - Dallas, TX

Devcon Int'l/Crown Bay Marina - Tampa, FL

Divan Western Motel - Gordon, NE

East West Resorts - Beaver Creek, CO

Haulover Marine & Peco Bay - US Virgin Islands,

Testimonials

Months after the storm passed, the County was still faced with tremendous burdens related to the insurance coverage issues and FEMA and MEMA eligibility issues. Jackson County hired Adjusters International to provide professional services for disaster assistance, remediation, restoration and recovery efforts. ...Their expertise with governmental regulations, the complex FEMA process and insurance adjustments resulted in our successful claim for over $2 million in additional FEMA Public Assistance funding specifically; in our successful negotiations with our insurance carrier; and in numerous other increases in the values FEMA and MEMA initially designated for County projects. Jackson County will always be mindful of the help we received from Adjusters International when we needed it most.

Alan K. Sudduth

County Administrator - Board of Supervisors, Jackson County, Mississippi

Certainly the tragedy of the World Trade Center explosion will remain etched in our memories forever. We can, however, take pride in the united response of hundreds of people which enabled the complex to be reopened in record time and reconstructed on an expedited schedule. At the same time, as you well know, we were involved in a long, sometimes agonizing process of pursuing settlement activities with insurers. Without your help, and the help of many others the settlement wouldn't have been concluded as successfully as it was. On behalf of The Port Authority of New York & New Jersey, I would like to thank you for the expert advice you provided to me and my staff in our effort to bring the World Trade Center explosion insurance claim to closure. Your expertise and insight in this long and arduous negotiation were invaluable.

Bruce D. Bohlen

Treasurer - The Port Authority of NY & NJ, New York, NY

Case Studies

For decades, L'Auberge Chez François has been one of the leading restaurants in the metro Washington, D.C., area. Known for its exceptional French cuisine and impressive service, the restaurant is a longtime favorite of Washingtonians celebrating anniversaries, birthdays or other special occasions.

A magnitude 6.8 earthquake, called Nisqually in seismic circles, rocked Seattle, Washington, in 2001 and severely damaged the Starbucks corporate headquarters building.

It was in late November that an arsonist set a devastating fire to a popular Maryland hotel. The hotel, just five miles from Washington, D.C., does the majority of its business during the city's cherry blossom season. If the season was missed, they would not only lose that year's tour business, but bookings for the following years were also at risk.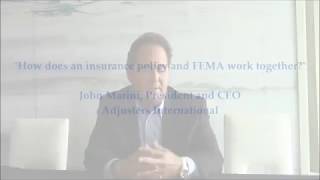 John Marini, President and CEO at Adjusters International discusses how FEMA and an insurance policy work together
Assisting policyholders in understanding which types of damages will be covered by normal flood insurance, NFIP and FEMA
Contact Us
If you're suffering from a commercial property claim, we can help!
( * ) indicates required field