Jansen/Adjusters International

Recovery Guide
How to Move Forward After a Catastrophe
This is a very difficult time for you. You feel overwhelmed and may not know where to start.
If you are on this page, you've taken the first of many steps towards recovery. Teaming with a public adjuster will make this process easier for you.
We will help you understand your responsibilities versus those of your insurance company. We will make you aware of different parties that could be involved. And we will assist you through every phase of the process to ensure that you effectively manage the professionals you may encounter over the next three to six months.
Next Steps
Once you have found a safe place to stay following the loss, you should:
Contact your insurance agent or company.

Have your insurance agent report a claim.
Your insurance agent will go over your policy & responsibilities after your loss.
Your insurance company will send out an adjuster to come out and assess your scope of loss.

Attempt to mitigate further damages.

Take pictures or videos of the entire process so that you can accurately show what happened and what you had to do.

Safety always comes first, but you should do what you can to prevent further damage to your insured property.
Examples include:
Covering windows with tarps to stop rain from causing additional water damage.
Keep all receipts related to damage mitigation.
Hire a professional mitigation company. Ensure that the company you want to hire is IICRC certified (Institution of Inspection Cleaning and Restoration Certification). Before any work begins, get in writing that you will not pay more for mitigation than the insurance company will approve.

We can help you manage the mitigation company you choose.

Contact an ALE representative.

ALE is coverage for Additional Living Expenses such as food or the cost of staying in a hotel or an apartment that you might incur while your home is temporarily uninhabitable.
This coverage is a standard part of most homeowners' insurance policies, but many don't realize they have it.
It will reimburse the insured for the cost of maintaining a comparable standard of living following a covered loss that exceeds what normal expenses were before the loss. Limits are capped at a percentage of the home's insured value.
Communicate with your ALE representative and be sure to save all receipts to document your expenses. If you are unsure of how to obtain one, we can help you find a representative.

Hire reputable contractors.

A professional building contractor will get you an estimate of how much it will cost to restore or rebuild your home.
Look for someone who is licensed with an active bond or insurance in place.
The contractor should not modify the scope of work but base the estimate on repairs related to your claim.
Check references and visit properties of their clients.

File a claim with your insurance company.

Before you can settle your claim, a walk-through must happen with your insurance company.
Be sure to have all your documentation including receipts, photographs, and videos.
Don't feel pressured to answer any questions that make you uncomfortable during the walk-through.
The public adjusters at Jansen Adjusters International will walk you through the entire process and get you the maximum amount of recovery you deserve.
5 Questions for Yourself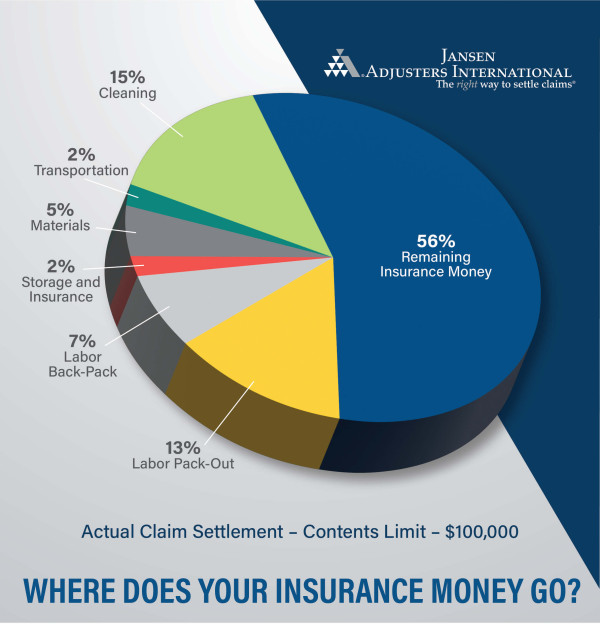 After suffering the loss of your home, you will have many questions.
These may be the most important:
Are you prepared to answer questions from your insurance adjuster regarding damages?
Do you understand your insurance coverage as it relates to replacement costs versus actual cash value?
Do you know how to navigate your additional living expenses with minimal impact on your current lifestyle?
Do you know how to prepare a detailed inventory of your personal property?
Are you prepared to prove your damages to the insurance company per your policy provisions?
Record the answers and then contact the Jansen/Adjusters International team to help with the next steps.