Public Adjusters for Fire Damage
If your organization or community suffers a fire to any of its facilities, the damage can be devastating. Your recovery can depend on how you assess and report the damage. Our team of experts helps you obtain the maximum claim recovery so you can get back on your feet sooner.
According to the National Fire Protection Association, business owners and organizations suffer $2.3 billion in commercial and industrial direct property loss each year.

Fire claims are common and complex because they spark different types of damages. The damage inflicted upon buildings, facilities, and infrastructure can interrupt lives and livelihoods immeasurably, striking a devastating blow to your organization or community. You will not only face the challenges to minimize the damage and secure everyone's safety. You will now also have to secure the necessary funding for your recovery. Will it only come from your insurance policy? If so, will it be enough to fully recover?
Our public adjusters have expertly managed insurance claims for every type of disaster at the regional, state, and national levels. With Texas, Oklahoma, or Puerto Rico fire damage claims, we can efficiently organize our team of adjusters, estimators, and inventory specialists to evaluate and document your loss in its entirety. Our adjusters are called upon by communities, non-profits, and government organizations for our unique ability to mobilize a top team of professionals who have the unmatched experience and comprehensive understanding of the laws, regulations, and policies involving disaster recovery. This enables us to consistently coordinate and obtain the maximum reimbursement for our clients. Our experience successfully negotiating fire damage claims has made us the public adjusters Dallas, Houston, Oklahoma, and Puerto Rico policyholders rely on to recover more, sooner.
The Jansen/Adjusters International Offices
What To Focus On After Fire Damage
Make sure you fully understand the meaning of each of the following before you move forward. Feel free to reach out to us for a no-cost discussion about your claim.
Why should the county, city, town, or district optimize its claim?

Do we have a commitment to taxpayers to recover the most possible?

What if the insurance company engages a building consultant?

What is my agent/broker's role?

Will my code upgrade coverage address all my code related issues? ADA, fire codes, etc.?

Is there coinsurance in my policy?

Do we need to issue an RFP in order to engage your services?

Who in our county, city, town, or district will be involved in making the decision to hire us?

Is your claim a result of an event that may be funded by FEMA? If so, it is your obligation to first maximize your insurance settlement to satisfy FEMA's eligibility requirements.

Why can't we do it ourselves?

What emergency facilities are necessary to continue operations?

Can temporary facilities still be used at the end of the claim and be considered permanent? If so, how?

How do existing plans for renovations or enhancements affect my claim?

What building codes and regulations must be considered in the reconstruction?

How do bond cycles affect the full replacement cost holdback provisions of a policy?
How Our Public Adjusters Help You
Evaluate

Fully reviewing your insurance coverage.

Strategy

Developing a claim management strategy.

Compliance

Determining policy compliance issues.

Valuations

Completing detailed valuations of building, equipment and inventory losses.

Interruption

Formulating business interruption models.

Itemization

Presenting and supporting an itemized claim package to your insurer.

Negotiation

Negotiating on your behalf with your insurance company.

Communication

Keeping you informed every step of the way.

Settlement

Ultimately settling the claim for the maximum amount and with less hassle for you.
Government & Non-Profits Our Public Adjusters Have Helped
Client References & Testimonials

Client References

1745 Wazee - Denver, CO

1860 Larimer St. - Denver, CO

789 Sherman LLC - Denver, CO

A&M Custom Homes - Gig Harbor, WA

A1 Custom Trophies - Westminster, CO

AA Storage - Wheatridge, CO

ACCU, Inc. - Denver, CO

Advance Telecom - Denver, CO

Alderson, Alderson, Weiler, Conklin, Burghart & Crow LLC - Topeka, KS

Alex Pappas - Denver, CO

Alfonso Vastola - Castle Rock, CO

American Ski Exchange - Vail, CO

Anne Rice - Boulder, CO

Annette Bank - Louisville, CO

Apex Properties - Bowling Green, KY

Ash McFadden - Boulder, CO

Aspen Alps - Aspen, CO

Aspen Hotel - Anchorage, AK

Aztec Church of the Nazarene - Aztec, NM

Bagby Quality Castings - Stockton, MO

Baldwin Building Condominiums - Denver, CO

Testimonials

We had a fire that destroyed one of our classrooms and did extensive smoke damage throughout our 76-year-old campus... Instead of having to negotiate all aspects of structural engineering, roof damage, renovation and replacement costs, cleaning issues, storage and delivery complications, we hired AI and continued education students while they did all the "foot" work.

J. Charles Harrison

Superintendent - Brownfield Independent School District, Brownfield, TX

...we suffered a large rain event which affected over 50 of our schools...Within three weeks, AI had prepared the estimates...AI's professionalism led to a good working relationship with our insurance company's adjuster. There was never a time when I could not reach either you or a member of your staff to have my questions or concerns addressed. I believe that we picked an excellent company, AI, to provide adjusting services for the major catastrophe that befell our school district this year.

Kermit Falgout

Risk Manager - Houston Independent School District, Houston, TX

Case Studies

For decades, L'Auberge Chez François has been one of the leading restaurants in the metro Washington, D.C., area. Known for its exceptional French cuisine and impressive service, the restaurant is a longtime favorite of Washingtonians celebrating anniversaries, birthdays or other special occasions.

A magnitude 6.8 earthquake, called Nisqually in seismic circles, rocked Seattle, Washington, in 2001 and severely damaged the Starbucks corporate headquarters building.

It was in late November that an arsonist set a devastating fire to a popular Maryland hotel. The hotel, just five miles from Washington, D.C., does the majority of its business during the city's cherry blossom season. If the season was missed, they would not only lose that year's tour business, but bookings for the following years were also at risk.
How long does a business suffer the consequences after a disaster strikes and how long should the insurer pay a business income loss? There are four major, distinct ...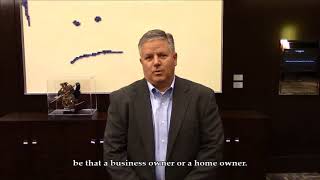 Steve Vanuga, Regional VP at Adjusters International/Basloe, Levin & Cuccaro discusses why fire insurance claims are so difficult
Policyholders may not realize the benefits of hiring a public adjuster until they understand the complexities
Contact Us
If you're suffering from a government & non-profit property claim, we can help!
( * ) indicates required field
Meet Your Public Adjuster
David has helped hundreds of business and home owners to recover financially after devastating property losses caused by both natural and man-made disasters.
Contact him today!