Public Adjusters for Hurricane Damage
Hurricane damage to your business may seem irrecoverable. Our experts will be there on-site for you to evaluate the full scope of commercial property damage and business interruption to prepare and negotiate a claim that will get you the maximum settlement to fully recover.
In the wake of such devastation, our adjusters are there for you as advocates and guides, responsible for managing your hurricane damage claim as you focus on the next critical steps of your business.
There are key factors to consider when preparing a claim for hurricane damage, given that you may be dealing with both windstorm and flood damages often covered by different insurance policies and handled by different adjusters. Without a proper grasp on this situation and a thorough understanding of your commercial insurance policy, you can be at a disadvantage and not receive what you truly need to restore your business.
As you begin to make decisions to maintain and restore your business, a crucial decision can be to hire a public adjuster immediately to prepare and manage your claim. As insurance professionals highly experienced in hurricane damage claims, we level the playing field when dealing with your insurance company. We guide you and advocate on your behalf as we evaluate and document your damage in detail to negotiate a claim for the maximum amount. With offices in Dallas and Houston, TX, Oklahoma City, OK, and San Juan, PR, our public adjusters are ready to maximize your Puerto Rico or Texas hurricane damage insurance claim.
The Jansen/Adjusters International Offices
What To Focus On After Hurricane Damage
Make sure you fully understand the meaning of each of the following before you move forward. Feel free to reach out to us for a no-cost discussion about your claim.
What is my agent/broker's role? Will his/her role be active or passive? When faced with supporting your position or the insurance company's, where will he/she stand?

The insurance company hired a construction estimator. What do I need to know?

Wind Damage vs. Storm Surge vs. Flood. What is covered?

Why is a claim strategy so important?

Am I impacted by coinsurance?

Forensic Deconstruction may be required in order to determine the possible structural damages caused by pressure vs. suction and differential pressure (wind flow on two opposite sides of any building components such as roofs, walls, structural members, etc., which could deform or dislodge materials).

Is there coinsurance in your policy? Properly managing coinsurance requirements can prevent financial disaster. Not properly managing coinsurance requirements can put you out of business! If there is, what does it mean? If there is, did your insurance adjuster explain it you? How is coinsurance calculated: on replacement cost or actual cash value?


Is there a methodology to properly document the loss?

Is a moisture survey necessary? Why or why not?

When mold is an issue, be sure to hire professionals to record RH%, document the damage, and create a moisture map before removing ALL wet building materials.

Prompt inspection and documentation is key to a successful claim. It takes a trained professional to identify and document windstorm damage. Do you have the right expert lined up? You should not just rely on the insurance company's experts.

The report from the roofing expert you choose can make all the difference in your recovery.

Repair vs. replacement of roofing can be a challenging issue. Are you familiar with matching issues/rules? Are you familiar with patching issues/rules? What about warranties?

Wind-driven rain vs. leakage. The difference can affect your recovery.

What happens following an extraordinary storm when drying equipment, generators, remediation labor, and other resources are unavailable for days? Weeks?
Property Damage Losses Commercial Claims Recovery Process
Property Damage
Time Element
Life & Safety Issues
Mitigation of Damages
Establish A Preliminary Recovery Plan
Evaluation of Coverages
Valuation Of Damages, Claim Preparation, and Documentation
Negotiations & Settlement
Restoration Of Property & Operations
How Our Public Adjusters Help You
Evaluate

Fully reviewing your insurance coverage.

Strategy

Developing a claim management strategy.

Compliance

Determining policy compliance issues.

Valuations

Completing detailed valuations of building, equipment and inventory losses.

Interruption

Formulating business interruption models.

Itemization

Presenting and supporting an itemized claim package to your insurer.

Negotiation

Negotiating on your behalf with your insurance company.

Communication

Keeping you informed every step of the way.

Settlement

Ultimately settling the claim for the maximum amount and with less hassle for you.
Industries Our Public Adjusters Have Helped
Client References & Testimonials

Client References

Advance Telecom - Denver, CO

Condominio Los Corales - San Juan, Puerto Rico

Devcon Int'l/Crown Bay Marina - Tampa, FL

Haulover Marine & Peco Bay - US Virgin Islands,

Los Cabos Golf Resort - Cabos San Lucas,

Mud Puddle Ceramics Shop, Inc. - Jamestown, ND

Treasure Isle Cruises - US Virgin Islands,

YMCA Treasure Coast - Stuart, FL

Testimonials

In post-storm Houston, resources were scarce, but you managed to marshal a team to quickly handle our various multi-family and commercial claims... In closing, while we hope to never have another claim, I have no doubt that if we do, yours will be the first number we dial.

Stephen Swan

President - Randall Davis Company, South Padre Island, TX

Case Studies

For decades, L'Auberge Chez François has been one of the leading restaurants in the metro Washington, D.C., area. Known for its exceptional French cuisine and impressive service, the restaurant is a longtime favorite of Washingtonians celebrating anniversaries, birthdays or other special occasions.

A magnitude 6.8 earthquake, called Nisqually in seismic circles, rocked Seattle, Washington, in 2001 and severely damaged the Starbucks corporate headquarters building.

It was in late November that an arsonist set a devastating fire to a popular Maryland hotel. The hotel, just five miles from Washington, D.C., does the majority of its business during the city's cherry blossom season. If the season was missed, they would not only lose that year's tour business, but bookings for the following years were also at risk.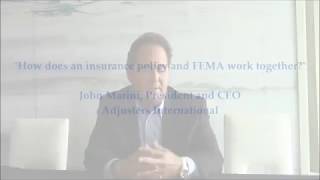 John Marini, President and CEO at Adjusters International discusses how FEMA and an insurance policy work together
We discuss Hurricanes Harvey, Irma & Maria and their impact on the people, areas, and economy as well as how home and business owners can properly insure themselves for this exposure in coming years ...