Homeowners Insurance Claims for Hail Damage
If your home is damaged in a hailstorm, the complete extent of your property damage may be difficult to detect. Our experienced public adjusters work on your behalf to evaluate and document the full scope of damage and negotiate a maximum claim recovery to get you the most for your home.
Hail damage can be hard to spot. If missed, it can cause further damage to your home down the road when you least expect it. We manage your claim to ensure that all potential damages are identified.
With hail damage, it is not just rooftops and vehicles. For instance, hail can ruin siding, windows, sheds, landscaping, and outdoor equipment and furniture. If you are not aware of this, how can you know for sure if your insurance company will be thorough enough to identify all possible hail damages? Small dents today can lead to bigger problems tomorrow, such as a leaking roof that could compromise your home.
If the insurance company has a team of adjusters working on its behalf, why should you take on your hail damage insurance claim alone? When you get struck with Oklahoma or Texas hail damage, our public adjusters are here for you. The advantage of working with us is that we are aligned with your interests from the beginning. We pour over the details of your homeowners insurance policy, detect and document all and any hidden damages, and negotiate your claim for the maximum amount to help you repair and recover. With offices in Houston, Dallas, and Oklahoma City — as well as in San Juan — our experience successfully negotiating hail damage claims has made us the public adjusters Texas and Oklahoma policyholders rely on to recover more, sooner.
The Jansen/Adjusters International Offices
What To Focus On After Hail Damage
Make sure you fully understand the meaning of each of the following before you move forward. Feel free to reach out to us for a no-cost discussion about your claim.
Are you entitled to an advance from the insurance company? What is reasonable?

What is your broker or agent's role? Will his/her role be active or passive? When faced with supporting your position or the insurance company's, where will he/she stand?


Are you familiar with the forms/practices below and what their request/issuance is telescoping? Request for a Proof of Loss. Reservation of Rights letter. Request for an Examination Under Oath.


How much do I really need to know?

How much of my time will this take?

How can I minimize the emotional toll on my family?

How can I minimize the effect on my work/career?

How large of an advance should I expect?

Is there anyone on my side?

How much time over the next several months will you need to put aside to handle your claim properly? How will all those hours affect your family? Your job?

What is the emotional investment that you will need to commit to the process?

Can you get paid for your time?
Property Damage Losses Homeowners Claims Recovery Process
Property Damage
Time Element
Life & Safety Issues
Mitigation of Damages
Establish A Preliminary Recovery Plan
Evaluation of Coverages
Valuation Of Damages, Claim Preparation, and Documentation
Negotiations & Settlement
Restoration Of Property & Operations
How Our Public Adjusters Help You
Evaluate

Evaluating your insurance policy to establish the best possible strategy for presenting your claim to the insurer.

Strategy

Valuing, documenting, and substantiating every detail.

Communication

Keeping you informed every step of the way.

Negotiation

Negotiating on your behalf with your insurance company.

Settlement

Ultimately settling the claim for the maximum amount and with less hassle for you.
Homeowners Our Public Adjusters Have Helped
Client References & Testimonials

Client References

Alex Pappas - Denver, CO

Dino Pinerola - Bowling Green, KY

Enger Appraisal - Golden, CO

Harvey & Sharon Barnard - Denver, CO

Marie Wilkenson - Aurora, CO

Martha Daley - Denver, CO

Radetsky Appraisal - Bigfork, MT

Rocky & Peggy Van Winkle - Bowling Green, KY

Testimonials

Months after the storm passed, the County was still faced with tremendous burdens related to the insurance coverage issues and FEMA and MEMA eligibility issues. Jackson County hired Adjusters International to provide professional services for disaster assistance, remediation, restoration and recovery efforts. ...Their expertise with governmental regulations, the complex FEMA process and insurance adjustments resulted in our successful claim for over $2 million in additional FEMA Public Assistance funding specifically; in our successful negotiations with our insurance carrier; and in numerous other increases in the values FEMA and MEMA initially designated for County projects. Jackson County will always be mindful of the help we received from Adjusters International when we needed it most.

Alan K. Sudduth

County Administrator - Board of Supervisors, Jackson County, Mississippi

Certainly the tragedy of the World Trade Center explosion will remain etched in our memories forever. We can, however, take pride in the united response of hundreds of people which enabled the complex to be reopened in record time and reconstructed on an expedited schedule. At the same time, as you well know, we were involved in a long, sometimes agonizing process of pursuing settlement activities with insurers. Without your help, and the help of many others the settlement wouldn't have been concluded as successfully as it was. On behalf of The Port Authority of New York & New Jersey, I would like to thank you for the expert advice you provided to me and my staff in our effort to bring the World Trade Center explosion insurance claim to closure. Your expertise and insight in this long and arduous negotiation were invaluable.

Bruce D. Bohlen

Treasurer - The Port Authority of NY & NJ, New York, NY

Case Studies

For decades, L'Auberge Chez François has been one of the leading restaurants in the metro Washington, D.C., area. Known for its exceptional French cuisine and impressive service, the restaurant is a longtime favorite of Washingtonians celebrating anniversaries, birthdays or other special occasions.

A magnitude 6.8 earthquake, called Nisqually in seismic circles, rocked Seattle, Washington, in 2001 and severely damaged the Starbucks corporate headquarters building.

It was in late November that an arsonist set a devastating fire to a popular Maryland hotel. The hotel, just five miles from Washington, D.C., does the majority of its business during the city's cherry blossom season. If the season was missed, they would not only lose that year's tour business, but bookings for the following years were also at risk.
One potentially serious, yet difficult-to-detect, type of disasters that can strike an apartment or condominium complex is a hail storm. Property owners often don't even realize that their ...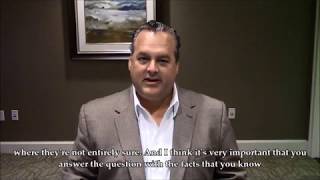 Luis Esteves, Principal & Executive General Adjuster at Jansen/AI, discusses what a homeowner's first steps should be when filing a property damage claim
Hail can cause hard-to-see dents and fissures in and around your property or home. A regular inspection
Contact Us
If you're suffering from a homeowner property claim, we can help!
( * ) indicates required field
Meet Your Public Adjuster
David has helped hundreds of business and home owners to recover financially after devastating property losses caused by both natural and man-made disasters.
Contact him today!