Dealing with property damage is stressful. But sometimes, the thought of hidden damage in your property can be even more distressing than visible damage. Internal water damage from burst pipes or malfunctioning appliances, plumbing, or fixtures can result in unseen damage that may not be easily detected during the typical inspection. Water from exterior components like the roof, walls, and flashings can also cause damage to the interior.
However, flooding events and water that seeps into the structure over time are typically not covered by insurance. These losses are not considered "sudden and accidental" and are deemed to be the result of multiple occurrences over an extended period of time, making them maintenance issues.
In addition, the threat of mold growth means inspectors must work quickly to assess water damage accurately. But will insurance cover the cost of hidden water damage should it be uncovered on your property?
In short—yes, your insurance coverage should encompass water damage that might not be visible to the naked eye. But first, it is essential to prove it and that can be most accurately accomplished by a professional utilizing technology such as thermal imaging.
When it comes to hidden water damage, it is especially important to bring in experts to negotiate with your insurance carrier so that you receive everything to which you are entitled.
What are the benefits of thermal imaging experts and how can they help identify hidden water damage?
1. Thermal Imaging is Key
A typical visual inspection may only focus on where the initial intrusion occurred, limiting the claim amount, and leaving you with insufficient funds for repairs based on damage that may appear isolated.
Thermal imaging—or infrared technology—is a non-invasive method to inspect water damage. The technology relies on temperature to produce an image, revealing the temperature differences between wet and dry areas on roofs, walls, flooring, and cabinetry. It detects moisture that visual inspections could otherwise miss without creating additional damage.
When utilized in conjunction with a moisture meter, which physically touches where the water was detected and measures the saturation of a structure, a more accurate scope of damages can be included in the claim.
Hiring a public adjusting firm with in-house thermographers can be key to finding hidden water damage and ensuring you are properly compensated for the damage to your property.
"If your house has water damage , most insurance companies will not use thermography, likely leaving you with hidden water damage," Jansen/Adjusters International Public Adjuster James Montalbano states.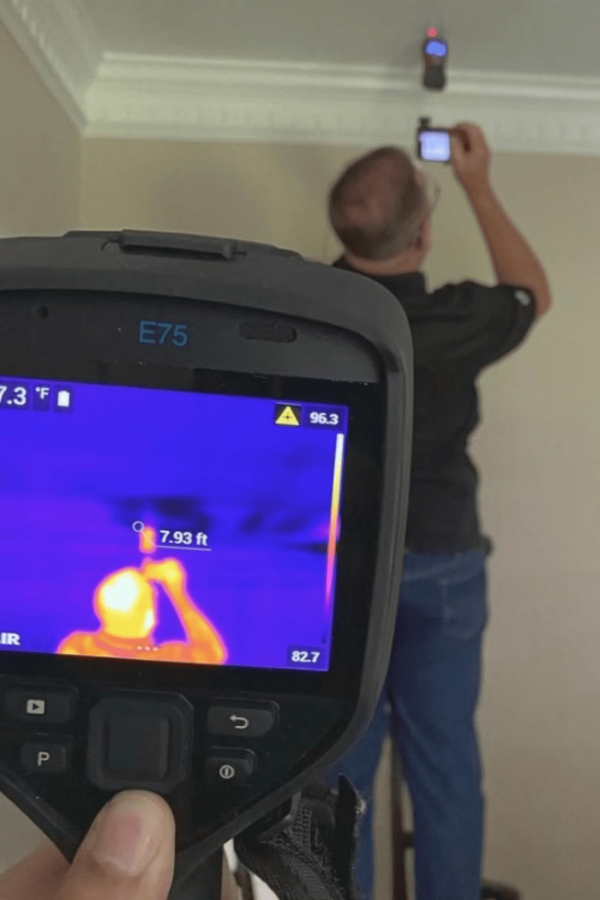 Watch this active thermal imaging scan that helped prove a flat roof replacement claim after getting denied.
2. Environmental Considerations
Changing environmental conditions can impact the outcome of a thermal imaging assessment, so it is essential to have a public adjuster evaluate the property right away for the most accurate results.
Rainfall, sun reflections, and ventilation caps can affect a thermal imaging assessment. Thermographers use ambient temperature, reflective heat, and absorbed heat to determine the most favorable conditions to yield the most accurate data.
3. Rule Out Poor Insulation
Unlike air which forms a linear pattern, moisture absorbs in a circular pattern. Although thermal imaging detects the infiltration of cold air the same way it detects moisture, poor insulation shows up as a straight line instead of a circular pattern. Ruling out poor insulation can strengthen the case for water damage.
4. Plan for Potential Mold Issues
Initial inspections, even with thermal imaging, can't predict mold growth. But, if you act quickly to identify the areas that have been damaged by water, a thermographer can determine where mold might form down the line, saving you money in the long run.
5. Understand Who Has Your Back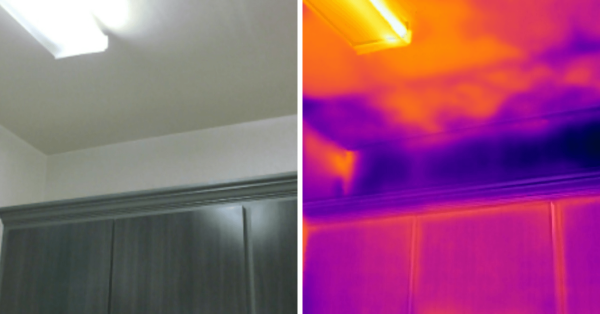 Ultimately, the insurance carrier is not required to bring a thermographer on-site to prove your water damage insurance claim. It is the policyholders' responsibility to prove their claim.
On the other hand, Jansen/Adjusters International has helped thousands of residential and commercial property owners negotiate fair and correct insurance claim settlements. Having been in business for over 41 years, our team of public adjusters, forensic accountants, contents specialists, and building estimators work together to handle your insurance claim with accuracy and professionalism.
With offices in Houston, Dallas, Oklahoma City, New Orleans, and San Juan, Puerto Rico, we are close by to offer you immediate assistance using the latest technology like thermal imaging.
If you're wondering if your insurance policy will cover hidden water damage, contact us as soon as the damage occurs for assistance with preparing, estimating, negotiating, and settling your claim.