Authored by:
Luis R. Esteves, Principal & Executive General Adjuster
Jansen/Adjusters International
After your home or personal property has been damaged, both mitigation and restoration companies can assist in your recovery. A mitigation company works to prevent further damage from happening to your home. A restoration firm performs additional services.
After a property loss, choosing to work with the vendor your insurance company prefers may seem more straightforward. But without clear boundaries established within a contract, that vendor may not always be the most cost-savvy choice for your repairs.
You can do several things to protect your best interests when hiring a mitigation or restoration company.
Restoring Your House after Water Damage
Insurance claims for water damage can be very complicated due to impacted areas: baseboards, carpets, walls, built-in cabinetry, carpets, and personal property. Policyholders need to know the extent of their coverage for all the damages as soon as possible. Your state of confusion during the claim process can put you at a disadvantage in dealing with vendors.
While most insurance policies cover water damage, they can vary substantially depending on the cause of the damage.
Basic policies will cover interior water damage resulting from a leak in plumbing and heating systems. However, suppose the leak is a result of an old or defective pipe. In that case, it is considered a maintenance issue, so the insurer will not pay for the repairs to the plumbing itself but only for the resulting water damage. If the leak in the plumbing was caused by freezing, the plumbing repairs are covered as long as the owner took reasonable care to maintain heat in the building before the loss.
Under a basic insurance policy, any water damage to the interior is only covered if the exterior of the building was first damaged by a covered peril, e.g. wind tearing off shingles or siding creating an opening in the roof or walls. Wind-driven rain is not covered. However, broader policy coverage (all risk) will cover this type of damage.
Water damage that results when water enters the building by seeping/leaking through a below-grade basement and foundation walls is usually excluded from coverage. Surface water is also excluded, including widespread flooding events, unless you obtain specific additional coverage. Note that flood coverage can vary greatly and contain many exclusions.
Water that backs up through sewers or drains is commonly excluded, or if included, it is subject to very low limits. It is possible to add a specific policy endorsement that can provide varying amounts of coverage.
Is Mold Remediation Fully Covered?
Unfortunately, insurance coverage for mold damage is usually limited. It only applies if the mold directly results from a covered peril, for example, from a covered water damage event or from extinguishing a fire.
The mold that occurs independently without being a direct result of a sudden and accidental covered event is not covered under any policy.
Claims involving mold remediation may result in unreimbursed expenses unless your policy includes adequate mold coverage.
Water mitigation companies sometimes recommend extensive dry-out areas where damage has occurred. The work may very well be necessary, but you should be aware of the process and the potential cost up-front. Primarily you should be aware that you may be responsible for any unreimbursed expenses.
Restoring Your House after Smoke and Fire Damage
When smoke mitigation measures are needed, property owners have household items packed up and removed. Meanwhile, the building and items within can be left in a toxic environment from chemicals from fire and smoke, especially if the power has been turned off and there is no climate control. Acidic smoke mixed with moisture can leave permanent stains. Mitigation companies should properly wipe down all the building's hard surfaces to avoid further damage.
Policyholders need to be vigilant when dealing with mitigation and restoration companies. Therefore, we recommend every policyholder make sure that you include the following statement in your contract:
"The insured will only be responsible for the insurance-approved pricing and scope of repair."
Property owners also need to think through what to save and restore after a property loss damages a building or its contents. For example, in some instances, you may not want to move or keep all the items in your home. Although some things may have a value that is much less than the fee a mitigation company charges for packing them, you may want to rethink what items you keep.
The same situation can apply when textile cleaning companies are involved in the mitigation process. Homeowners need to know if the items are worth cleaning, particularly in the case of clothing. If clothes are out of style or you haven't worn them in years, it may not be cost-effective to have these items cleaned.
Example of a Homeowner Contents Packout
Below is an example of a homeowner with $1000,000 dollars in coverage. If you have minimal coverage, but a lot of contents, it may be a waste of money to clean your items. While some textile cleaning companies may offer the insured a removal of the cleaning charge, it only equates to a small percentage of the insurance money you have available.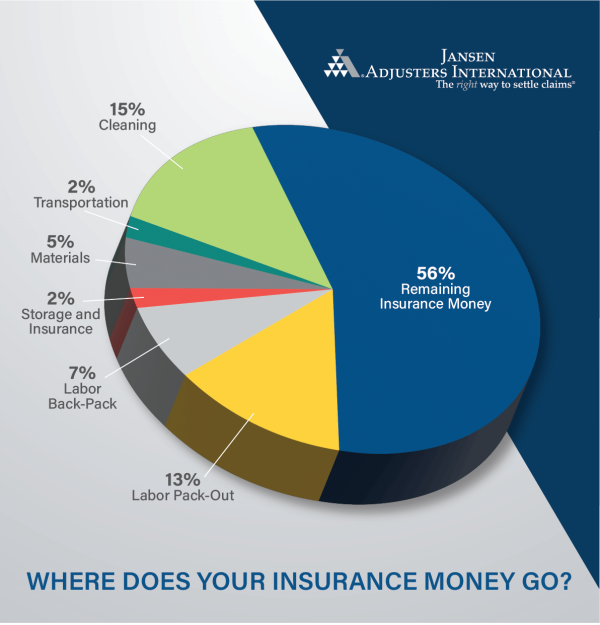 Packing out your contents and cleaning them eats up a lot of the money that you could use to replace your items.
Can You Trust Your Mitigation or Restoration Contractor?
Always check the credentials of your mitigation contractor. Make sure they are approved by the Institute of Inspection Cleaning and Restoration Certification.
If you suffer a loss from water damage or fire, you will likely employ a mitigation company early on. You may even hire the insurer's preferred vendor if you feel comfortable with that firm. But remember to be vigilant and hold the contractor accountable. Stay knowledgeable about the services that mitigations companies will perform, such as renting equipment to clean up water damage, mold remediation, packing up the home, and textile cleaning.
Remember that restoration companies and contractors are not allowed under law to perform insurance adjusting services on your behalf. But as licensed public adjusters, we can help. So, if you become overwhelmed with your fire damage or water loss homeowner claim, give the Jansen/Adjusters International team a call.
Related Video Resource: Legal Spotlight: Matthew Pearson on Mitigation & Public Adjusters